The mopane bushveld of southern Botswana is a magical place. This is how I remember it: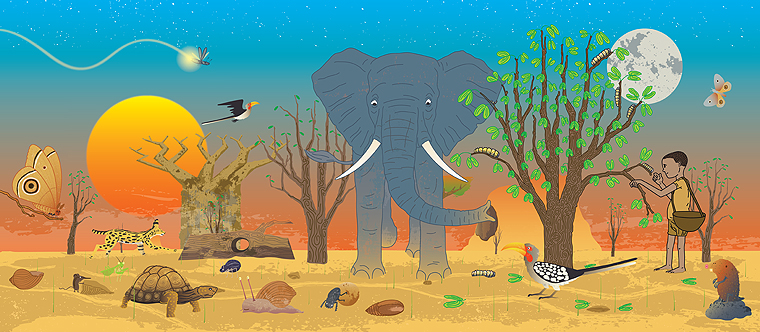 orange-yellow rust coloured earth – scraggly mopane trees with leathery butterfly shaped leaves – abandoned shells of giant land snails – trees snapped at the base by rambling elephants – rhino dung set upon anxiously by tribes of dung beetles – southern yellow-billed hornbills gliding in wide arcs from tree to tree – baobab trees towering above the bushveld scrub, ancient and otherworldly – the sound of a startled leopard's nails gripping dry tree bark – the crimson African sunsets – abandoned ant hills excavated by aardvarks…
And that's only a fraction of what's on show in daylight; after dark everything changes when a cast of noisy and unusual characters wake up: bushbabies, aardvarks, pangolins, giant crickets, nightjars.
All the buzzing bush activity made me curious so I decided to explore on my own (not a good idea in the wild) – risking it down an overgrown footpath on the banks of the Limpopo River. I was on high alert for something big and potentially angry, but instead, I was startled by a tiny creature racing across the footpath. It stopped suddenly, hiding in the shade under a nearby shrub. I peered into the shadows and slowly an elephant shrew, or sengi, came into view, looking something like this:

We froze – sized each other up and waited – then he, or she, was gone.
The result of that day is a new book, Mister Sengi's Very Big Friend. It is the story of an elephant shrew who wants to see the world through the eyes of something much bigger than himself.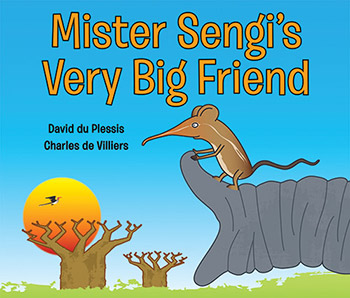 A number of story iterations, and many drawings later, the tale was beautifully captured and written by Charles de Villiers. The book is scheduled to appear in December 2013.
It is available in English and Afrikaans from Kalahari.com. You can also buy it as an ebook.