Tag Archives | children's books
In February I drew a cover for How Crab Lost His Head. It's out in October, I did the illustrations in it too.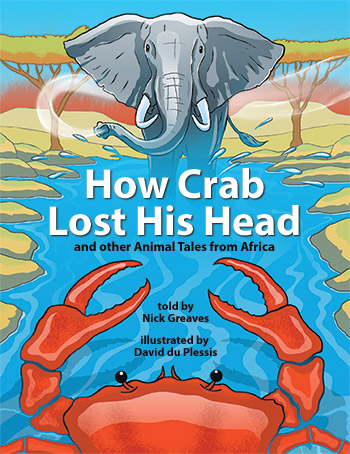 Mister Sengi's Very Big Friend wins a Bookchat Award for 2013.
Which is a pleasant surprise, but also an honour as there are some big names on the list.
Fiction
MISTER SENGI'S VERY BIG FRIEND by David du Plessis & Charles de Villiers (Struik Nature 2013)
MONDAY EVENING, THURSDAY AFTERNOON by Jenny Robson (Tafelberg 2013)
SHARP EDGES by S A Partridge (Human & Rousseau 2013)
SISI GOES TO SCHOOL and other stories by Wendy Hartmann, illustrated by Joan Rankin (Human & Rousseau 2013)
STORYTIME : 10 South African stories for children by various authors (Sunday Times/Nal'ibali 2013)
THE NAME OF THE TREE IS BOJABI by Dianne Hofmeyr, illustrated by Piet Grobler (Human & Rousseau 2013)
Non-fiction
FIRST FACT FINDER by Helen Lewis (Metz Press 2013)
SAM, The Toad in the Hole by Lulu & Tee (African Penguin 2013)
MISTER SENGI'S VERY BIG FRIEND by David du Plessis & Charles de Villiers (Struik Nature 2013)
MONDAY EVENING, THURSDAY AFTERNOON by Jenny Robson (Tafelberg 2013)
SHARP EDGES by S A Partridge (Human & Rousseau 2013)
SISI GOES TO SCHOOL and other stories by Wendy Hartmann, illustrated by Joan Rankin (Human & Rousseau 2013)
STORYTIME : 10 South African stories for children by various authors (Sunday Times/Nal'ibali 2013)
THE NAME OF THE TREE IS BOJABI by Dianne Hofmeyr, illustrated by Piet Grobler (Human & Rousseau 2013)
Non-fiction
FIRST FACT FINDER by Helen Lewis (Metz Press 2013)
SAM, The Toad in the Hole by Lulu & Tee (African Penguin 2013)